FLU VACCINATION 2020 - 2021   Walk In Clinics have begun here at The Good Practice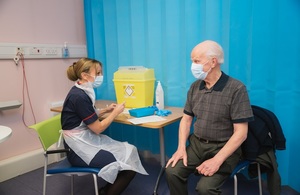 The Good Practice is now offering the flu vaccine  to our patient community.  Please pop in for your jab. It is so important to get it and protect yourself.

Our roll out is part of the national programme to vaccinate  over 35 million people during the upcoming winter season, including all secondary school students up to year 11 for the first time. This builds on the success of last year's expanded flu programme, which saw a record number of people get their jab.Millions more people will benefit from a free flu vaccine this year

We will be contacting everyone by text and by telephone. But please pop in to the surgery for more details if you haven't heard from us.

Last year, 4 in 5 (80.9%) people aged 65 and over in England received their flu vaccine – exceeding the World Health Organization uptake ambition of 75%.
Working with the NHS, the government is preparing to deliver the expanded flu programme alongside any booster programme for COVID-19 vaccines as part of wider autumn and winter planning, which centres around protecting as many lives as possible.
During the 2021 to 2022 season, which began in  September, the flu jab will be available to:
all children aged 2 and 3 on 31 August 2021

all children in primary school and all children in school years 7 to 11 in secondary school

those aged 6 months to under 50 years in clinical risk groups

pregnant women

those aged 50 years and over

unpaid carers

close contacts of immunocompromised individuals

frontline health and adult social care staff
Published: Sep 23, 2021